Where Every Hour is Golden
The Official Beer of the Golden Isles
Silver Bluff's Golden Isles IPA is an ideal pairing of unity and camaraderie. As a partnership between the Golden Isles CVB and Silver Bluff Brewing Company—two earnest brands whose mission is to enrich the region they call home—this beverage represents the strengths of the Golden Isles community: to find common ground and celebrate one another. This classic American IPA is a robust beer that is as memorable as the destination it's named for. It stands above all seasons and across all occasions. Embodying the aspirations of the Golden Isles and Silver Bluff, Golden Isles IPA inspires us to savor the moments worth sharing together.
Where can I buy Golden Isles IPA?
Silver Bluff beer is currently available for purchase at select retailers in the Golden Isles, Savannah, Atlanta and Augusta markets. Find specific locations with Silver Bluff beverages here.
About Silver Bluff Brewery
Silver Bluff Brewery acts as a brewery, beer garden, and taproom in one, bringing the community of Historic Downtown Brunswick together with frequent events and food trucks. The brewery is named after the single landmass formation of St. Simons Island, Jekyll Island, and Brunswick known as the "Silver Bluff" that existed during the last Ice Age. Silver Bluff produces four year-round brews, three to four seasonal beers, and always features five or more special releases in their taproom. ​
Silver Bluff brews award-winning examples of classic styles, with decades of experience and multiple certifications in the field of brewing. They are the largest production brewery in Glynn County and the surrounding region, and their unique brewing facility contains two brewhouses and a canning line. Silver Bluff Brewery uses their two brewery systems and state-of-the-art expandable canning line to produce beer loved throughout the Golden Isles and beyond. Their brewing technology ensures each style of beer is of balanced flavors and high quality. With outdoor beer garden games and TVs always showing live sporting events, Silver Bluff Brewery is the perfect Golden Isles hangout spot. Check out their calendar so you don't miss upcoming events!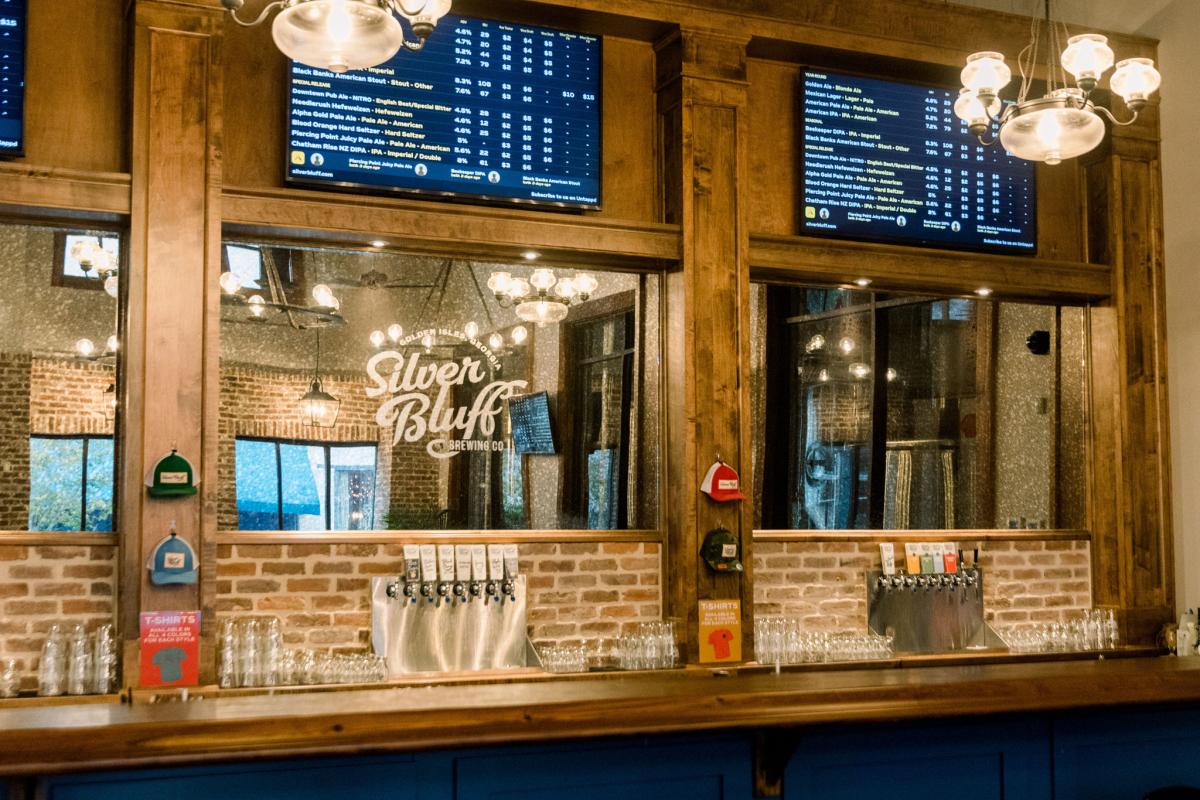 Where Every Hour is Golden
Nestled on the Georgia coast, midway between Savannah, GA, and Jacksonville, FL, lie four beautiful barrier islands—St. Simons Island, Sea Island, Jekyll Island, Little St. Simons Island—and the mainland city of Historic Brunswick. Pristine stretches of marshland, punctuated by small islands known as hammocks, define the breathtaking landscape and create the appearance of a continuous stretch of land reaching out to the barrier islands.
Miles of serene beaches turn golden at sunset, and an endless labyrinth of waterways winds through vibrant marshlands. A place to stroll, to paddle and to savor, this is the Golden Isles.
Where did the Golden Isles get its name?
The Golden Isles is a place well named. Dating back to the coast's earliest explorers, the Golden Isles has a landscape and legacy that is, in every way, golden. One needs only to witness a gorgeous sunrise over the ocean or bask in the beauty of the sun setting westward beyond the mainland to know the namesake of this stretch of Georgia's coast.
The color gold prevails here; in the hues of our beautiful sandy beaches, in the warmth of the summer's sun, in the shades that paint the vast marsh grasses in winter, and in the rich treasures that are experienced here, year-round, by residents and visitors. 
5 Things to Do in Historic Downtown Brunswick 
From original Victorian architecture to beautiful pocket parks and shops lining the streets, Historic Downtown Brunswick has more than enough to uncover.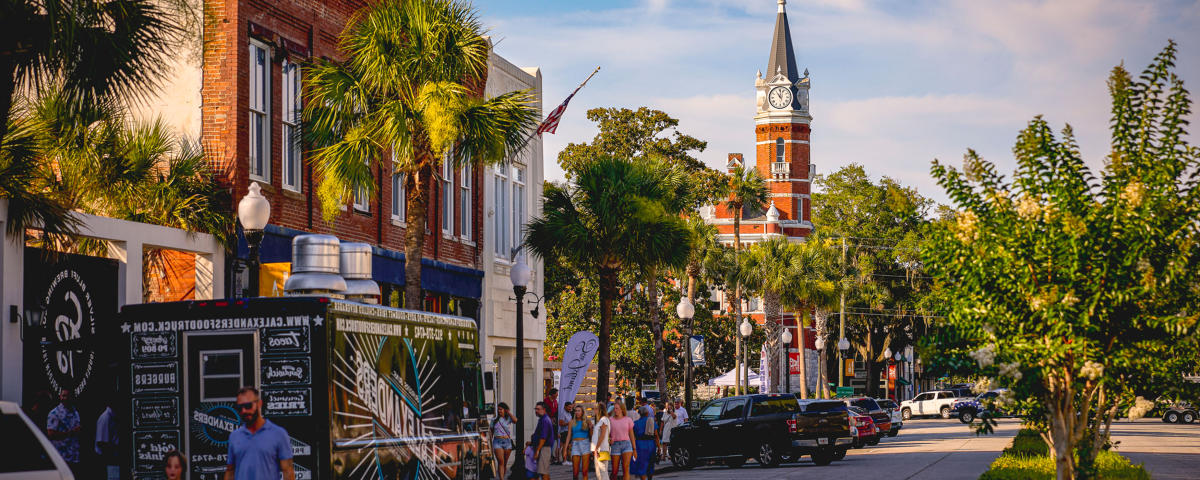 1. Attend First Friday 
Held on the First Friday of each month from 5:00pm - 8:00pm, the shops and restaurants in Historic Downtown Brunswick have extended hours, and serve up hors d'oeuvres and specialty drinks to kick off the weekend.
2. Take a Tour
Explore the unique beauty of Historic Downtown Brunswick by bike and unveil the mainland's history on a Brunswick Old Town Tour.
3. Experience Southern Cuisine 
Sample and savor all the flavors of the Golden Isles at the many local restaurants in Downtown Brunswick.
4. Shop Local
Walk up and down Gloucester and Newcastle streets, stopping into the expansive collection of antique stores and boutique shops. 
5. Enjoy Festivals and Live Music 
Historic Downtown Brunswick is home to many festivals, events, and live music. Check out Brunswick Music District, a series of live concerts on Fridays and Saturdays to see Downtown Brunswick come to life. Or, honor local shrimpers at the annual Mayfair Festival.
Visit our calendar of events and live music page for a complete schedule.