Where you can get lost and find yourself.
Along the Georgia coast, midway between Savannah, GA and Jacksonville, FL, lies a stretch of land that is like no other. With four beautiful barrier islands, St. Simons Island, Sea Island, Jekyll Island and Little St. Simons Island, and a historic port city, Brunswick, the Golden Isles of Georgia welcomes you to streets lined with centuries-old oak trees draped with Spanish moss and miles of sun-drenched beaches. 
Pristine stretches of marshes define the breathtaking landscape and create the appearance of a continuous stretch of land reaching out to the barrier islands. Each of the five unique locations offers a memorable setting, a variety of activities, and an inherent tranquility.
Discover Each of the Golden Isles
How to Get Here
Traveling to the Golden Isles has never been more convenient. Whether you choose to arrive by car or by plane, you won't feel as though you've left home; you'll feel as though you're coming home. 
If you're planning a Georgia coast road trip, Interstate 95 provides easy access to the Golden Isles, as do U.S. highways 341 and 17. Take advantage of direct daily flights from Hartsfield-Jackson Atlanta International Airport into the Brunswick-Golden Isles Airport, where you can leave the bustle of city life and have your toes in the sand in just under an hour. Private flights can be accommodated at both the St. Simons Island Airport and the Jekyll Island Airport.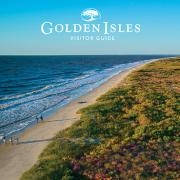 X
Request a Free Guide
Plan the perfect trip to the Georgia coast with our Golden Isles Visitor Guide. Find trip inspiration, must-visit sites, and experiences not to be missed.
Order Your Copy