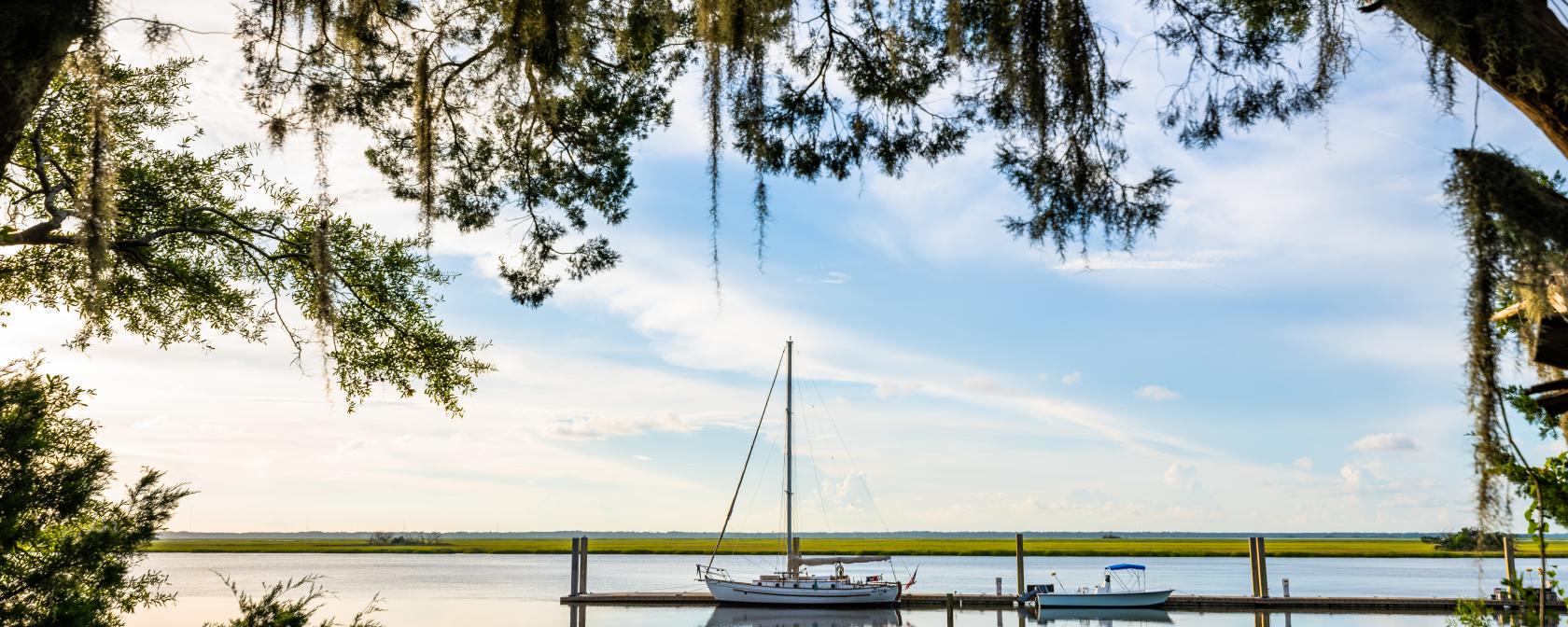 Here, fall comes with gorgeous sunshine by day and cool breezes by night – and we couldn't ask for a more perfect balance to enjoy some of our favorite seasonal activities! Explore the ultimate guide to "sweater weather" in the Golden Isles:
 Cast a Line
Whether you're more for fishing from a boat or from the shore or a dock, the Golden Isles has some incredible fishing opportunities. And nothing feels quite as good as casting a line into our salty sounds to catch one of our local specialties in the cooler weather!
Local Tip: Plan an outdoor barbecue once you reel in your catch of the day for the perfect way to pass a fall evening – just don't forget your sweater! Find public grills at the oceanfront Massengale Park on St. Simons Island or near the Jekyll Island Pier.
Experience Festivals & Events
From the largest celebration of Georgia' natural resources to major TOUR events, fall is filled to the brim with unique events. Find the soundtrack to your season at one of our diverse weekly live music events; reel in prizes at a tag and release fishing tournament; watch the pros play at the annual RSM Classic golf tournament; discover a family-friendly way to discover our coastal wildlife at our annual Coastfest event; shop to your heart's content at one of our local craft or antique markets – whatever you choose, our festivals and events are sure to wow all season long!
Local Tip: Festivals and events aren't the only ways to enjoy the Golden Isles from day to night. Check out our guide to local happy hours, nightlife, and more!
Go for a Sunday Drive
Here, a Sunday drive takes on a whole new meaning. The Golden Isles is home to 189 holes of golf on some of the island's most spectacular courses – including a TOUR player favorite course – the Seaside Course at Sea Island Golf Club, located on St. Simons Island. Hit the links, play a challenging 18 holes or even try to play multiple full courses in a day – here, you can do it all!
Local Tip: Looking for a challenge? Seek out a local course that was designed by a golfing legend: Sea Island Golf Club's Retreat Course was designed by Davis Love III; the King & Prince Golf Course was designed by Joe Lee and Billy Fuller; the Brunswick Country Club was designed by Donald Ross – just by playing these courses, you're leveling up with some of the best minds in the game!
Tour Our Islands – By Bike!
Fall is the perfect time of year to enjoy the Golden Isles on two wheels. From quieter streets to cooler weather, the season's perks speak for themselves! Between the Jekyll Island Trail System and the St. Simons Island Trail System, visitors have access to more than 50 miles of biking trails to explore – not to mention hard-packed beaches where you can truly ride by the sea.
Local Tip: Looking for a secluded once-in-a-lifetime bike experience? Head out to Little St. Simons Island to ride from the Lodge grounds through untouched coastal wilderness, down a gorgeous boardwalk, and along the undeveloped 7-mile-long beach. You'll never experience a more peaceful ride!
Relax & Rejuvenate
With summer coming to a close, there's no better time to take a vacation from – well – vacation! Now is the perfect time to sit back, relax, and be pampered without worrying too much about the next social engagement on your agenda! And when it comes to relaxation, the Golden Isles doesn't disappoint. Explore our spas and wellness centers, or take a look at our 3-day luxury itinerary to see some of our favorite ways to melt the stress away.
Local Tip: There are plenty of other ways we love relaxing and getting away from it all in the Golden Isles. Try walking on a serene path, attending a service at a uniquely beautiful church or simply finding a local beach to fit your mood.
Discover Little St. Simons Island
Little St. Simons Island is a paradise escape any time of year – but our favorite time to visit is in the fall. In the cooler weather, naturalist tours of the island are spent comfortably engaging with nature for long periods outdoors – and there's plenty of wildlife to be seen! Not to mention, with the already small allowance of 32 overnight guests per night, the season is even quieter on this little island, giving you a private, peaceful escape with your loved ones!
Local Tip: While visitors absolutely love staying overnight, you don't have to spend the night to get a taste of the island. Visit for the day for an unforgettable naturalist tour, some incredible, locally sourced cuisine and more!
Hop Around Historical Landmarks
Our history is grand any time of year, but there are so many enjoyable ways to experience it in the fall. Bike around the local attractions; take an open-air trolley tour through our towns; ride in a horse-drawn carriage through the Jekyll Island Historic District; discover local ghost tours to learn about the ghosts and ghouls of the Golden Isles.
Local Tip: With the huge variety of ways to experience Golden Isles history, it's easy to miss a few stories. One of our most interesting stories comes from our Gullah Geechee culture and African-American history. Don't miss these stories!
Try Birding
It's migration season! From September through November, just about every species of bird that migrated through Georgia in the spring is back! Explore our sections of the Colonial Coast Birding Trail, visit a local park, beach or wildlife preserve or even head out to Little St. Simons Island for a naturalist-led birding tour to try to catch sight of flycatcher, vireo, hawks, kestrel, merlin, peregrine, gulls, terns and more! If you visit at the right time, some of the birds who choose to nest in Georgia for the winter might make an appearance as well including the blue-headed vireos and orange-crowned warblers.
Local Tip: More than 300 species of birds have been recorded on Little St. Simons Island alone, making it a must-visit stop for true birding hobbyists!