Where the tide is the only time that matters.
Escape to One of Travel + Leisure's Best Islands in the Continental U.S.
The world is discovering what Georgians have cherished for generations - the Golden Isles.
For us, it's so much more than a beach destination. It's a place to stroll, to ditch the crowds, to tune out the bustle.
Here, we can soak up the sunshine and dig our toes into the warm sands of St. Simons Island, Sea Island, Jekyll Island and Little St. Simons Island - where we can relax to the charming rhythm of Brunswick while savoring its rich, southern flavors. 
The Golden Isles is where we are continuously drawn to dramatic natural beauty virtually untouched by time. It's how we gaze through memories while wandering along miles of serene beaches that turn golden at sunset. It's how we create new ones as we cruise along an endless labyrinth of waterways that wind through vibrant marshlands. 
This is the Golden Isles.
Top Fall & Winter Experiences
HOW TO GET HERE
Traveling to the Golden Isles has never been more convenient. Whether you choose to arrive by car or by plane, you won't feel as though you've left home; you'll feel as though you're coming home. 
If you're planning a Georgia coast road trip, Interstate 95 provides easy access to the Golden Isles, as do U.S. highways 341 and 17. Take advantage of direct daily flights from Hartsfield-Jackson Atlanta International Airport into the Brunswick-Golden Isles Airport, where you can leave the bustle of city life and have your toes in the sand in just under an hour. Private flights can be accommodated at both the St. Simons Island Airport and the Jekyll Island Airport.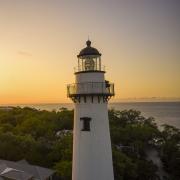 X
Specials & Packages
Save on your next visit to the Golden Isles with these lodging specials and packages.
View More