Explore the Gateway to the Golden Isles
As soon as you arrive in the Golden Isles off I -95, you're greeted with genuine and heartfelt hospitality, especially in Brunswick, our Gateway to the Golden Isles. If you're traveling to the Golden Isles by car, Brunswick is actually the first town you'll visit. With so many places to stay and things to do in Brunswick, we highly recommend making this historic mainland city your home base during your visit to the Golden Isles of Georgia.
From Brunswick, you can island hop and have your toes in the sand within 20 minutes. Both St. Simons Island and Jekyll Island are easy drives from Brunswick, and both islands have several beaches for you to visit! Head out on day trips to St. Simons Island, Jekyll Island, and even Little St. Simons Island to explore the area's natural beauty, historic attractions, and more, whether on your own or on a guided tour.
Places to Stay in Brunswick
Brunswick's easy access and close proximity right off of Interstate 95 and U.S. Highway 341 mean you'll be able to get off the road and begin relaxing practically as soon as you exit the highway. Here, you'll find dozens of nationally-recognized name brand hotels known for their comfortable rooms, consistent geniality, and prized amenities. And if you're looking for a quaint and more local experience, opt for a cozy bed and breakfast in the heart of Brunswick's historic district.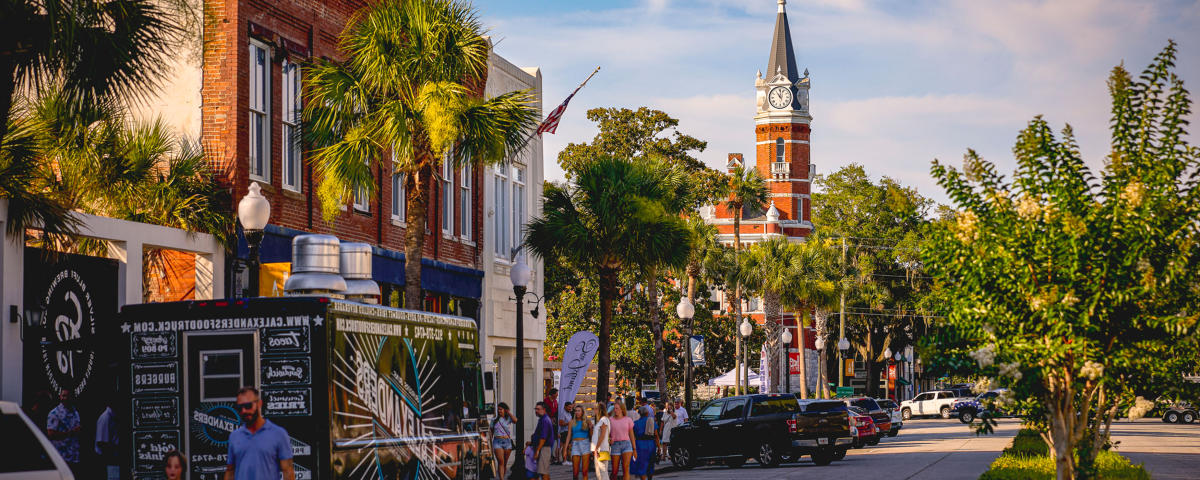 Things to Do in Brunswick
When you aren't relaxing in your hotel room or exploring our islands on a day trip, be sure to get out and discover Brunswick's hidden gems. If you're staying at a Brunswick hotel near Interstate 95, you'll be close to the Altama Wildlife Management Area. This 4,000 acre property is home to incredible native wildlife, untouched maritime forests, and waterways perfect for fishing. Head out for a morning hike through the trails and pack a picnic to enjoy an alfresco lunch at the property's pavilion. Learn more about the Altama Wildlife Management Area.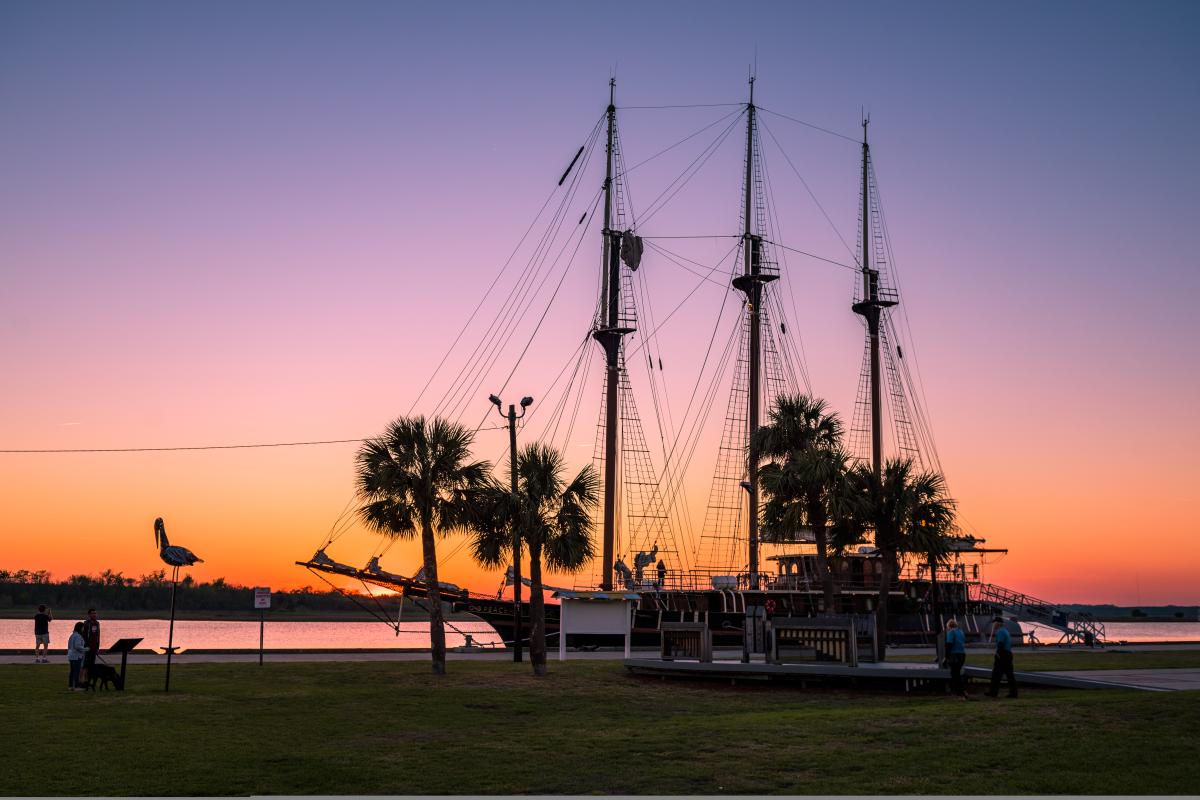 Enjoying time outdoors is easy in Brunswick. Both Sidney Lanier Park and Marshes of Glynn Overlook Park provide ample opportunities for visitors to see and experience the many waterways found around the Golden Isles. Bring your own rod and reel, or stop in at a local bait and tackle shop to pick up everything you need. Let your kiddos run and play at the fields and playgrounds found at Mary Ross Waterfront Park, Howard Coffin Park, and Selden Park. 
History buffs will especially love exploring Historic Downtown Brunswick. Originally founded in 1771, Brunswick is one of the oldest cities in the state of Georgia. Streets and squares in Historic Downtown Brunswick still bear their original names dating back to the 18th century, and you'll find incredible architecture from the Victorian, Gothic Revival and Queen Anne periods. Browse the rotating art galleries and live performances at the Ritz Theatre, built in 1898, and stroll down Newcastle Street to see the clock tower at Old City Hall, built in 1889. Discover a full guide of things to do in Historic Downtown Brunswick.
Top Brunswick Experiences
Where to Eat in Brunswick
With a town perfectly situated right on the water, you can rest assured knowing plenty of fresh, local seafood is the highlight of many menus in Brunswick. When looking for restaurants in Brunswick, you'll find just about everything, from unique, locally owned restaurants to tried-and-true chain favorites. Start your day off in Brunswick with a coffee, avocado toast, or a sweet treat from Wake Up Coffee.
Located near Exit 29 just off of I-95 in Brunswick, you'll find Tortuga Jack's. Tortuga Jack's serves delicious Baja Mexican cuisine ranging from burritos to fish and shrimp tacos! You also have the option of dining outside, and don't forget to ask about their drink specials! Or, head to Historic Downtown Brunswick, and pick up delicious baked goods, grocery items, or a fresh meal from Schroeder's Market. For tasty pub food, Tipsy McSway's is a beloved local restaurant with a menu so broad you're sure to find something that satisfies your taste buds. Whether you're looking for lunch, dinner, or late night live music, you'll soon understand why locals can't stay away from Tipsy McSway's. 
And if you aren't quite ready to get back on the road, make a stop into Silver Bluff Brewing Company for an ice-cold beer brewed right here in Brunswick! Kids and pups alike can enjoy time outside of the car in Silver Bluff's beer garden, which also regularly hosts live music and food trucks. Purchase a six-pack of your favorite brew to take back home with you!