The further away you get, the closer you become.
What a sight to behold - dramatic natural beauty virtually untouched by time. Miles of serene beaches turn golden at sunset. An endless labyrinth of waterways winds through vibrant marshlands. This is the Golden Isles.
A place to stroll, to paddle and to savor, it's more than a beach vacation. It's a place to indulge in all the golfing bliss you can handle, or simply soak in the sunshine of the four radiant islands and the historic mainland city. The Golden Isles is a place to escape, settle into the rhythm of the tides and go at your own pace.
On the southern coast of Georgia, St. Simons Island, Sea Island, Jekyll Island, Little St. Simons Island and Brunswick have captured the hearts of many a visitor. Draped in a veil of Spanish moss and skirted by shimmering marsh grass, the region known as the Golden Isles has a reputation for enchantment, no matter the season.
DISCOVER THE GOLDEN ISLES
Top Golden Isles Experiences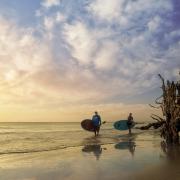 X
Specials & Packages
Save on your visit to the Golden Isles with these can't-miss hotel and restaurant specials and packages.
View More