Where peace and quiet is a way of life.
On the southern coast of Georgia, St. Simons Island, Sea Island, Jekyll Island, Little St. Simons Island and Brunswick have captured the hearts of many a visitor. Draped in a veil of Spanish moss and skirted by shimmering marsh grass, the region known as the Golden Isles has a reputation for enchantment - no matter the season.
While the warmer months bring long, lazy beach days and dips in the nearest pool, sunny skies and comfortable temperatures year-round mean the spirit of summer lingers on. With pleasant fall and winter weather, alfresco dining, wildlife exploration and friendly rounds of golf are blissfully accessible, and whether you're hopping from island to island or relaxing in your favorite spot, the Golden Isles is sure to win you over. 
Discover Each of the Golden Isles
How to Get Here
Traveling to the Golden Isles has never been more convenient. Whether you choose to arrive by car or by plane or even by boat, you won't feel as though you've left home; you'll feel as though you're coming home. 
If you're planning a Georgia coast road trip, Interstate 95 provides easy access to the Golden Isles, as do U.S. highways 341 and 17. Take advantage of direct daily flights from Atlanta into the Brunswick-Golden Isles Airport, where you can leave the bustle of city life and have your toes in the sand in just under an hour. Private flights can be accommodated at both the St. Simons Island Airport and the Jekyll Island Airport. 
Savannah/Hilton Head International Airport, just about an hour to our north, provides ample opportunities for additional commercial flights arriving along the Georgia coast. Jacksonville International Airport, an hour to our south, is another popular option. 
With the ease of traveling to the Golden Isles, you can spend more time being here and less time getting here.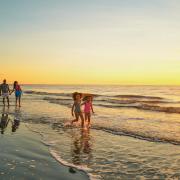 X
Lodging Specials & Packages
Make the most of your visit to the Golden Isles with these exclusive specials and packages from our lodging partners.
Discover More