Take the time to lose track of it.
You don't have to visit the Golden Isles of Georgia during the summer months to experience the true magic of summertime! Year-round warm temperatures, sunny skies, and friendly locals will gladly welcome you to our four barrier islands and mainland city any time of the year. 
Our idea of vibrant fall colors occurs when our lush marsh grasses turn a stunning shade of gold, reflecting the sunshine and creating an endless sea of yellow. Even during what others consider "the dead of winter," the average temperatures in the Golden Isles are in the mid-60s. 
Spend sunny days exploring our beaches, visiting our islands, and making friends along the way. Plan your trip to the Golden Isles for the ultimate escape at any time of the year.

GO ISLAND HOPPING
It doesn't matter where you choose to call home for a few days when you're visiting Georgia's Golden Isles! Our islands are easily accessible and well worth visiting during day trips. Surround yourself with untouched nature and a bevy of incredible wildlife on a day trip to Little St. Simons Island. Embark on private boat transportation, explore the 11,000 acres of ancient maritime forests on a guided naturalist tour, enjoy a fresh garden-to-table meal at lunchtime, and spend the afternoon searching for seashells and shorebirds along the island's seven miles of private beach. 
For extra exploration, spend a day (or a few nights!) on Little Raccoon Key, a tiny barrier island off the coast of Jekyll Island. Choose from three different day trips: a four-hour day trip with private boat transportation, the opportunity to search for artifacts around the island, and a knowledgeable guide who will share anthropological, marine and natural histories of the island; a three-hour fishing charter and history tour for up to six people; or a three-hour day trip and fishing charter, which combines the best of the other two options. 
Learn more about each of our towns.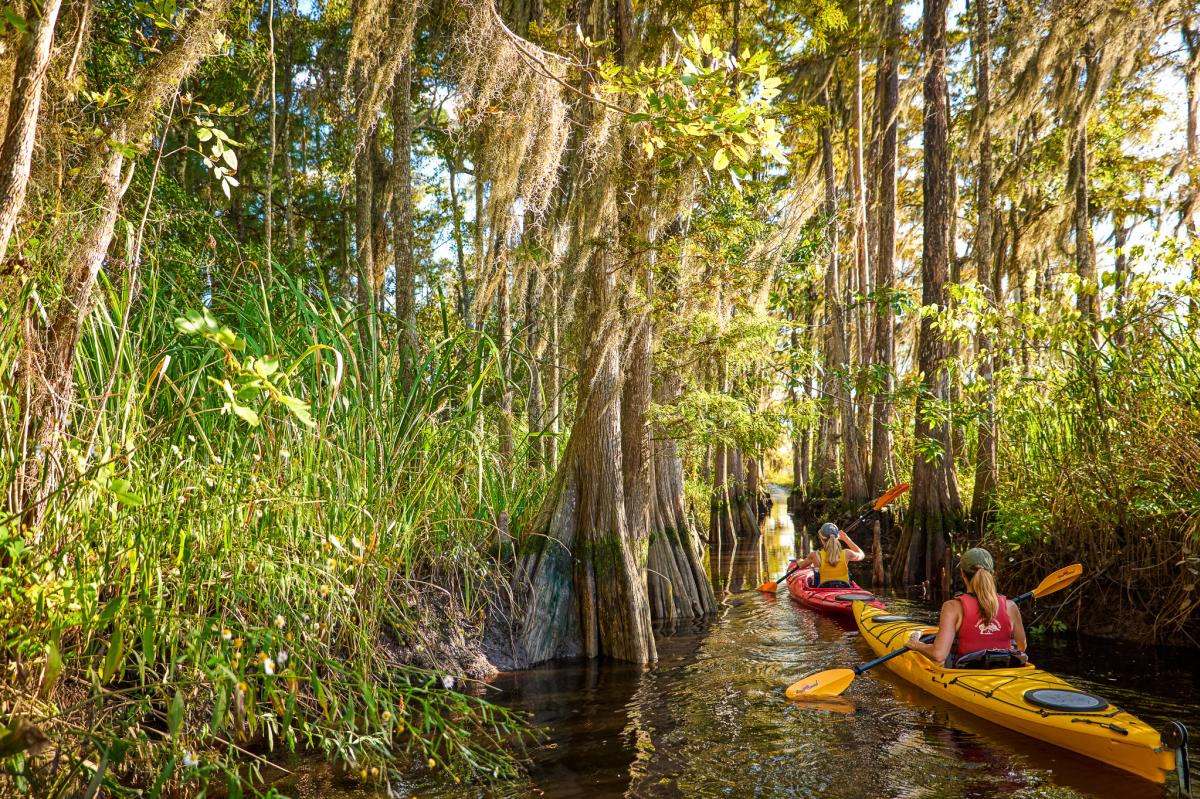 TAKE A TOUR
From crisp mornings to long-drawn afternoons, several guided tours provide ample opportunities to spend time outside enjoying the pleasant weather and beautiful scenery. Witness local wildlife in their natural habitats on a kayak tour with Southeast Adventure Outfitters or on a paddleboard excursion with Golden Isles Paddle Company. Wind through scenic stretches of marshes and rivers, and keep an eye out for dolphins, egrets, bald eagles, ospreys, and maybe even a river otter or two!
And for history buffs, sit back and relax on a guided history tour on an open-air trolley or tram, or stretch your legs on a self-guided walking tour of Brunswick. Learn about the incredible and rich history of the Golden Isles aboard a trolley on St. Simons Island. Choose from two companies that operate daily, Lighthouse Trolleys and St. Simons Trolley Tours. On Jekyll Island, be sure to book a tram tour through the beloved National Historic Landmark District to truly get a sense of what life was like on Jekyll Island during the Gilded Age. Explore the iconic Signature Squares of Brunswick on a self-guided walking tour and enjoy finding new murals, antique shops, art galleries, and a brewery along the way.
Find a full list of guided tours.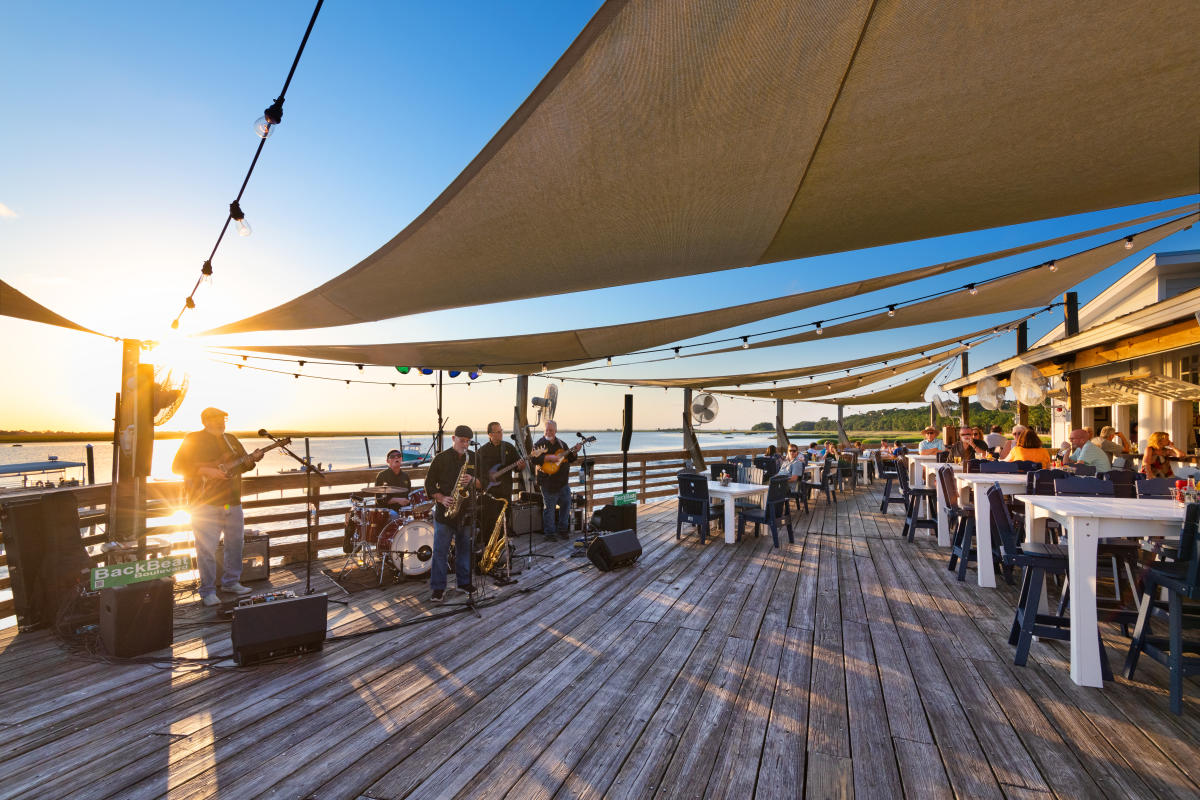 DINE OUTSIDE
There are over 200 restaurants across the Golden Isles! From locally-owned cheerful cafes to tried-and-true chain restaurants that you know and love, you'll find plenty of culinary options to suit your taste. Indulge in coastal cuisine brimming with freshly-caught shrimp, grouper, and snapper - just to name a few. Feel the true soul of heartfelt hospitality with a piled-high plate of southern classics like chicken fried steak and gravy, squash casserole, and cheese grits. 
With such beautiful weather, you'll always see visitors and locals alike taking advantage of the many restaurants offering outdoor seating throughout the Golden Isles. In the St. Simons Island Pier Village alone, you can enjoy dining alfresco at Iguana's Seafood Restaurant, Porch - you know it's known for its outdoor dining with a name like "Porch!", Barbara Jean's, Mellow Mushroom, and Brogen's South. And on Jekyll Island, you'll be treated to views just as spectacular as the food at The Wharf and Tortuga Jack's. 
Here's a complete list of restaurants with outdoor dining, as well as a list of oceanfront restaurants.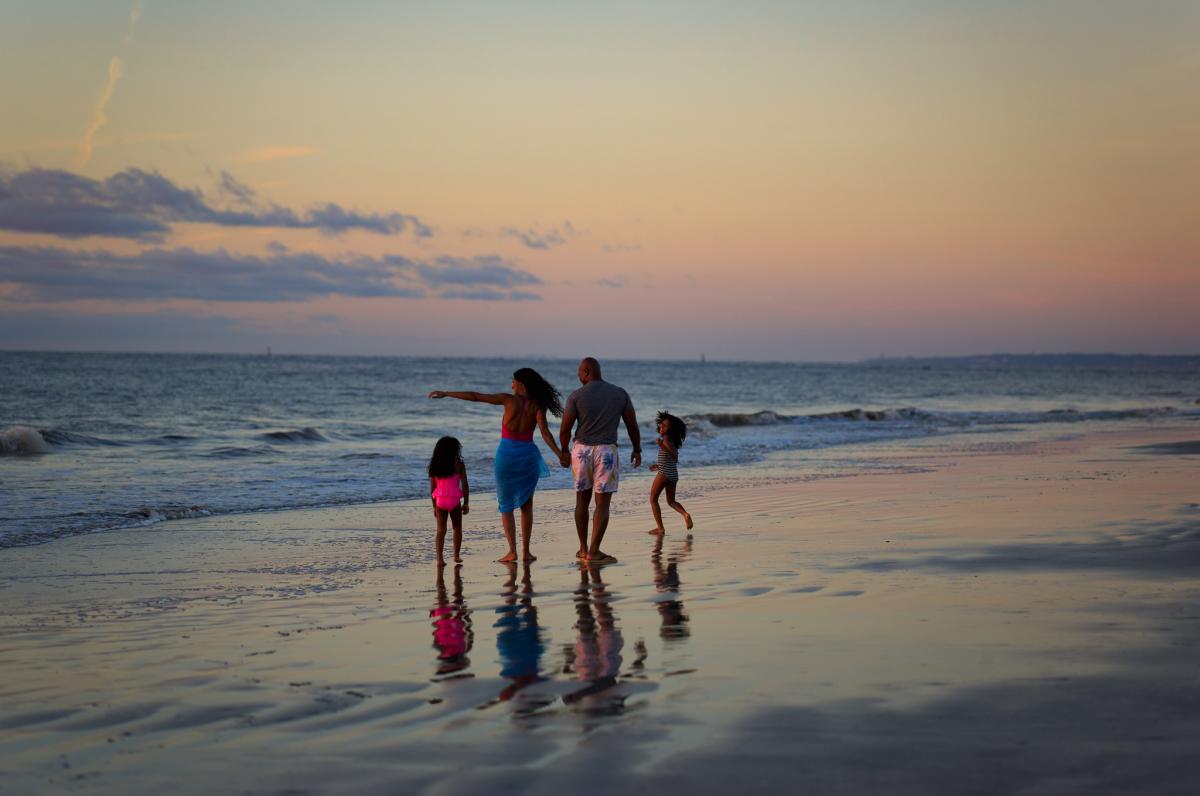 RELAX ON MILES OF BEACHES
With over 20 miles of beaches in the Golden Isles, you'll be able to spend countless hours soaking up the sun while biking, jogging, walking, beachcombing, or simply enjoying your favorite book. Most of the beaches found in the Golden Isles are wide and expansive, and have stretches of hard-packed sand even at high tide. Though water temperatures are known to drop during the winter months, beachgoers are still able to enjoy sunny days along the shore with family, friends, and yes, also their dogs! Many of our beaches are pet-friendly, so there's no reason to leave your four-legged family members behind when visiting.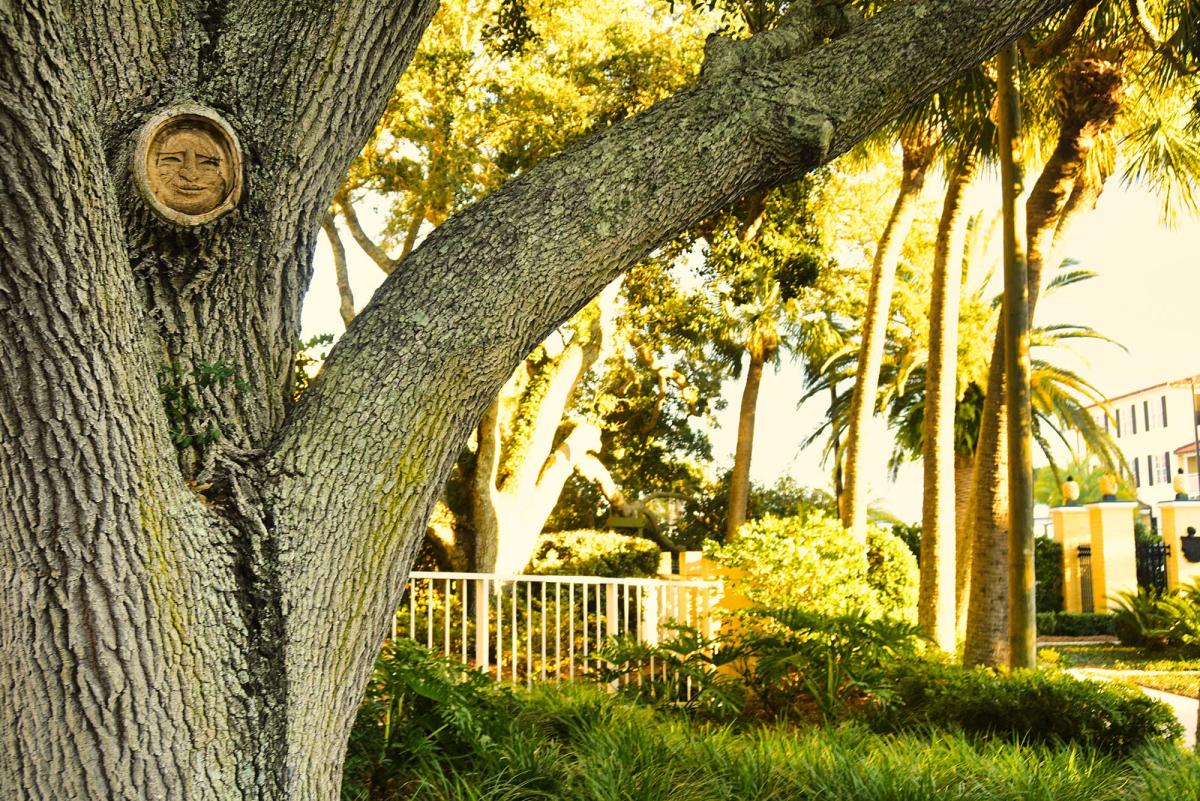 SEARCH FOR TREASURE
Get to know the islands even better on a one-of-a-kind treasure hunt! Rent a bike from Island Bicycle or a golf cart from Island Carts as your main mode of transportation as you begin the search for the famous St. Simons Island Tree Spirits, intricate tree carvings done by hand and hidden all throughout the island. Begin your search at the Golden Isles Welcome Center where you can pick up a map to guide you along the way. 
If you visit Jekyll Island in January or February, you'll be able to take part in the annual hunt for Island Treasures. A local tradition for years, Island Treasures is the ultimate game of finders-keepers. Hand-crafted glass orbs are hidden among the island's nooks and crannies, just waiting to be found! Spend a day exploring our southernmost island as you keep an eye out for Island Treasures along the way.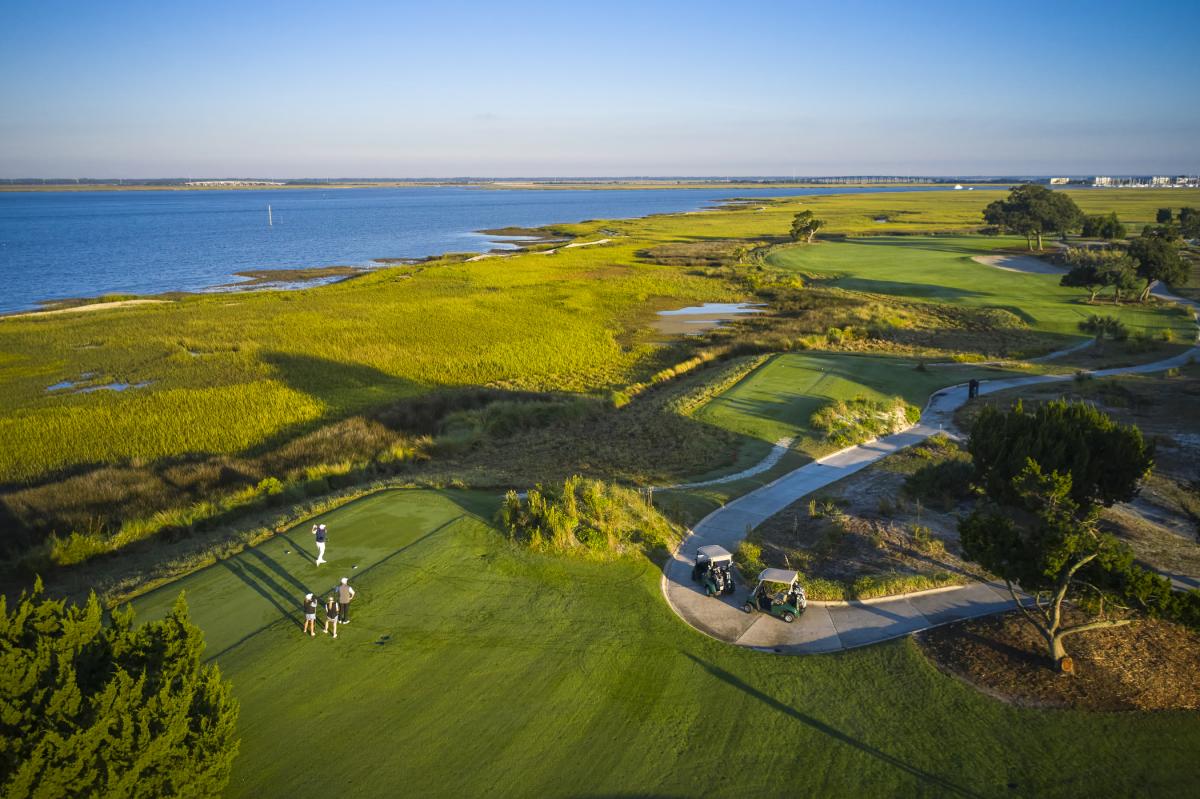 SET A TEE TIME
From sweeping greenways to Scottish-style links, golf has been a favorite among visitors and locals alike for centuries. In fact, the first golf course in the Golden Isles was built in 1898 by the millionaire members of the Jekyll Island Club. Today, you can enjoy 189 holes of golf on St. Simons Island, Sea Island, Jekyll Island and in Brunswick. Guests and members of Sea Island Resort enjoy access to the property's three championship golf courses and Golf Performance Center, a state-of-the-art facility with world-class golf instructors. Public courses, such as the King and Prince Golf Course and Sea Palms Golf Course, are available on St. Simons Island. 
Find a full list of golf courses.
Plan your visit to the Golden Isles' charming coastal communities at any time throughout the year to experience the calming sea breezes, warm sun on your face, and heartfelt hospitality. Here you're treated like a neighbor and a friend, regardless of how far away you traveled to get here. Your endless summer will begin the moment you cross the bridges onto the islands and take in the sweeping views along the way. We can't wait to welcome you here soon.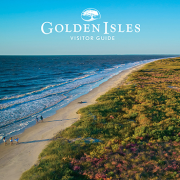 X
Request a Free Visitor Guide
Plan the perfect trip to the Georgia coast with our Golden Isles Visitor Guide. Find trip inspiration, must-visit sites, and experiences not to be missed.
Order Your Copy