Pet-Friendly Experiences on Georgia's Coast 
No one has to miss out on your vacation getaway, especially not Fido! The Golden Isles welcomes visitors from all over to our sun-kissed beaches and charming villages, pets included! Read on to discover some of the top pet-friendly experiences in the Golden Isles to help you plan the perfect trip for you and your four-legged pal. 
Golden Isles Pet-Friendly Hotels  
Or rather, a Heavenly Dog Bed, available at Westin Jekyll Island's pet-friendly rooms. A floor mat, dog bowl, and pet amenity kit add to the comforts of home. 
There are plenty of pet-friendly hotels on Jekyll Island. Bring your pal to the Holiday Inn Resort on Jekyll Island, and redeem the pampered pet package where you will receive a pet-friendly room, reduced pet fees, and a welcome gift for your four-legged family member. 
Pets are a part of your family, and there's no reason you should have to leave them behind on your coastal adventure. Experience Southern hospitality at any of the pet-friendly hotels on St. Simons Island. At Hotel Simone, your furry friend will receive a custom wag bag to make their stay pawsitively perfect. 
Or, have the flexibility of choosing the perfect accommodations for you and your dog. Lilmar Properties will set you up with a selection of St. Simons Island pet-friendly rentals in the most sought-after island locations. 
You'll also find pet-friendly hotels in Brunswick: Home2 Suite by Hilton is located just off I-95 at Exit 38, right by the Brunswick Golden Isles Airport, and will welcome you and your furry friend with open arms. 
Dog-Friendly Beaches on St. Simons Island and Jekyll Island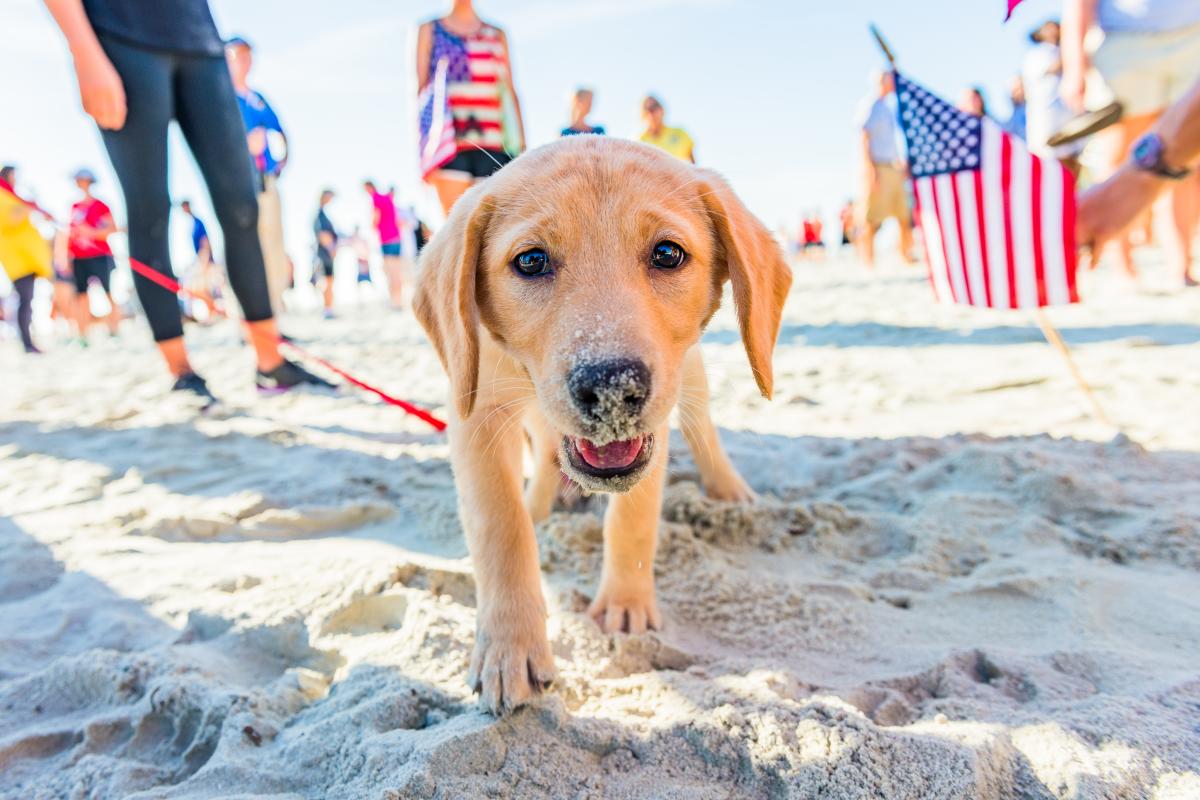 There's nothing like a beach day with your dog, enjoying the sandy shores and taking a dip in the salty ocean waters, and the Golden Isles has plenty of pet-friendly beaches to choose from. While you're on Jekyll Island, grab a leash and take your dog to one of its pet-friendly strands: Driftwood Beach, Great Dunes, and St. Andrews are all spots you and Fido will both enjoy. 
Oceanview Beach Park on Jekyll Island is a year-round pet-friendly beach, as long as you keep your pets on a leash. Take in stunning views of the Atlantic Ocean and get your feet (or paws) sandy. 
On St. Simons Island, East Beach and Massengale Park welcome dogs as well. Please keep in mind, animals are only prohibited on these beaches from Memorial Day through Labor Day between 9:00am and 6:00pm. From 6:00pm to 9:00am, dogs are allowed on the beach and do not need to be leashed but must be under the owner's immediate control. 
Pet-Friendly Trails and Parks in the Golden Isles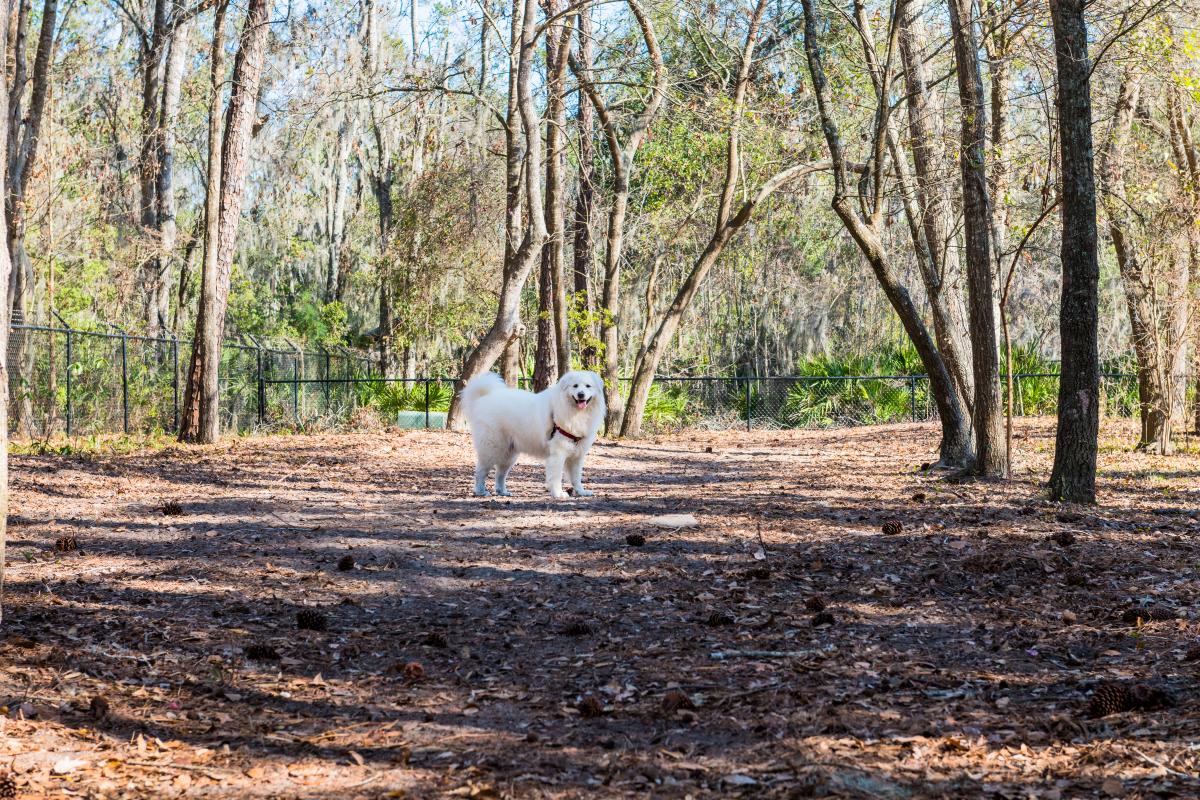 Your pet is sure to enjoy Frederica Dog Park, where there is plenty of room for your furry friend to run free and play with other visiting pups. Located at Frederica Park is St. Simons' Alice Richards Botanical Trail, replete with a children's area, gazebo and – squirrel alert! – wooded paths perfect for a walk.  
From there, head to Fort Frederica National Monument for a photo op among the historic ruins. You'll be amazed to find out that in the 1740s, Frederica was a thriving village of about 500 citizens. Enjoy the fresh air as you meander through the oak-lined "streets" that once belonged to the island's first European settlers. 
Discover more scenery unique to the Golden Isles by making a stop at Wesley Gardens. Uncover two acres of land filled with native trees and plants, and over 4,000 azaleas. You and your dog will love the beautiful colors and amazing smells of blooming plants and flowers. 
Pet-Friendly Things to Do on St. Simons Island
Not done adventuring? The Tree Spirit treasure hunt is an activity you and your dog can take on at your own pace. Located across St. Simons Island are eleven majestic oak trees that have unmistakable images of a weathered face carved into their surface. View a map or stop into the St. Simons Island Welcome Center for a paper copy. 
Or, walk the Pier Village with your dog. Be sure to stop in front of the St. Simons Island Lighthouse for a photo! You can also rent a Moke and cruise the island sightseeing in style with your furry pal.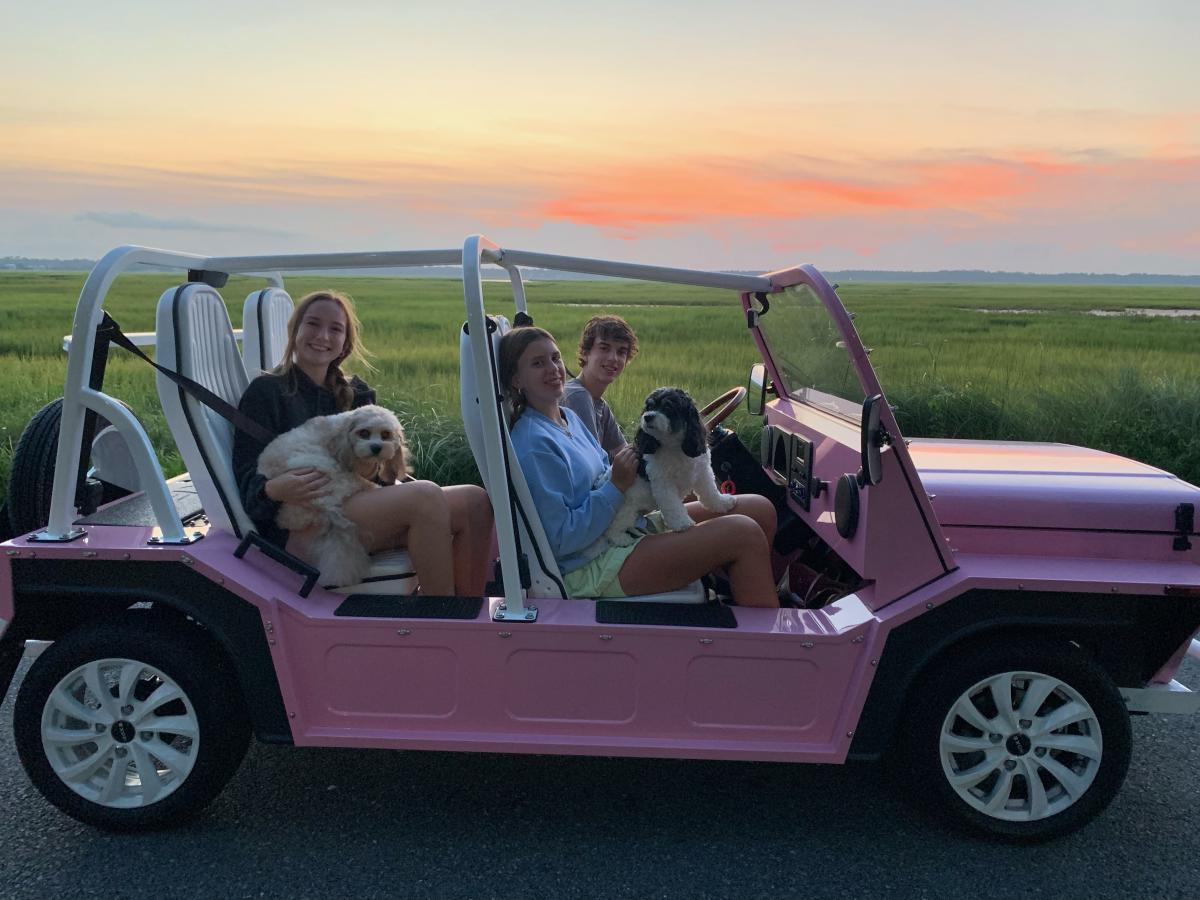 If you and your dog are up for it, venture into Brunswick and make a stop (and some friends) at Epworth Dog Park. Howard Coffin Dog Park is another spot in Brunswick where your dog can burn off some energy. 
Pet-Friendly Restaurants in the Golden Isles
The Golden Isles is known for being pet-friendly, and having plenty of great dining spots where your furry friend can join you for a meal. Grab some fuel at Mellow Mushroom, where you can indulge in a delicious stone-baked southern pizza with your dog by your side under a shaded patio. Or, grab a bite at Tipsy Mcsway's in Downtown Brunswick, a local favorite for pub food. For an especially enjoyable experience, plan your trip to Tipsy's on an evening with live music! 
You can also order a bite, a beverage, and a dog bowl (unless you've brought your own) at Brogen's South on St. Simons Island, the perfect spot to grab a bite after a long day. We recommend trying their delicious burgers and fried seafood. Tortuga Jack's on Jekyll Island also welcomes dogs and serves up tasty Baja Mexican cuisine oceanfront. Be sure to request a doggy bag for You-Know-Who. Or, immerse yourself in fresh seafood and beautiful marsh views at The Wharf on Jekyll Island, where dogs are allowed on the shaded outdoor deck. 
Best Time of Year to Bring your Pet to Georgia's Coast 
Although a wonderful location to visit year-round, the Golden Isles is an especially great destination for you and your dog to enjoy in the fall and winter. Temperatures cool down into the 60s during the daytime in December, January, and February, making it the perfect weather for pet-friendly activities. Also, from Labor Day to Memorial Day, there are no restrictions and dogs may be on the beaches at all times, as long as they are under the owner's immediate control. 
No matter how you choose to spend your time in the Golden Isles, you're sure to have an unforgettable experience that will have you smiling and your dog's tail wagging.