Go at your own pace.
What a sight to behold - dramatic natural beauty virtually untouched by time. Miles of serene beaches turn golden at sunset. An endless labyrinth of waterways winds through vibrant marshlands. This is the Golden Isles.
A place to stroll, to paddle and to savor, it's more than a beach vacation. It's a place to indulge in all the golfing bliss you can handle, or simply soak in the sunshine of the four radiant islands and the historic mainland city. The Golden Isles is a place to escape, settle into the rhythm of the tides and go at your own pace.
On the southern coast of Georgia, St. Simons Island, Sea Island, Jekyll Island, Little St. Simons Island and Brunswick have captured the hearts of many a visitor. Draped in a veil of Spanish moss and skirted by shimmering marsh grass, the region known as the Golden Isles has a reputation for enchantment, no matter the season.
DISCOVER THE GOLDEN ISLES
Top Golden Isles Experiences
HOW TO GET HERE
Traveling to the Golden Isles has never been more convenient. Whether you choose to arrive by car or by plane or even by boat, you won't feel as though you've left home; you'll feel as though you're coming home. 
If you're planning a Georgia coast road trip, Interstate 95 provides easy access to the Golden Isles, as do U.S. highways 341 and 17. Take advantage of direct daily flights from Atlanta into the Brunswick-Golden Isles Airport, where you can leave the bustle of city life and have your toes in the sand in just under an hour. Private flights can be accommodated at both the St. Simons Island Airport and the Jekyll Island Airport. 
Savannah/Hilton Head International Airport, just about an hour to our north, provides ample opportunities for additional commercial flights arriving along the Georgia coast. Jacksonville International Airport, an hour to our south, is another popular option. 
With the ease of traveling to the Golden Isles, you can spend more time being here and less time getting here.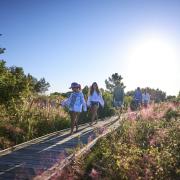 X
View Specials and Promotions
Don't miss great deals, offers, and packages to save on your trip to the Golden Isles!
Read More