There are four seasons in the Golden Isles, but ours are a little different than the traditional quartet you're familiar with. Here we have Early Summer, Summer, Late Summer and Winter. Our mild weather allows for nearly year-round fun in the sun. While we may not experience the fall foliage of many northern towns, we are able to enjoy afternoons on the beach well into October. We can't complain about that!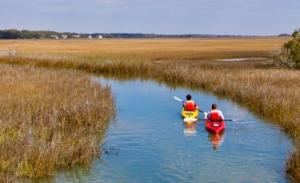 Although the days are slowly becoming shorter, locals and visitors alike still enjoy many outdoor activities like biking and kayaking. The air is slightly crisper and the humidity levels begin to drop.
Our version of fall foliage is the changing of the spartina marsh grasses. In the summers, the marsh turns a vibrant green, and as we transition into the cooler months, the marsh becomes dormant and reverts to its signature golden hue. To watch the sun's rays reverberate off the marsh in the late afternoons is almost like a religious experience. It transports you back to a simpler time and helps you forget about the rat race of life.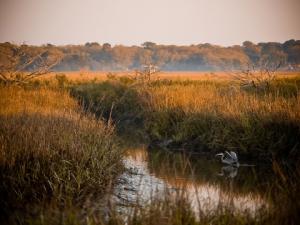 Because schools are back in session, fall is an excellent time to visit the Golden Isles. The swell of summer visitors has come and gone. A fall weekend getaway is a perfect option for couples looking for an adults-only vacation. Stroll along the beach hand-in-hand, or enjoy an evening watching the sunset at the St. Simons Pier.
There's no lack of excitement during the fall in the Golden Isles. Fall means festival season and we have plenty of events planned this year. From mouth-watering food festivals to popular sporting events like the RSM Classic, there's something for everyone. Other can't-miss events include CoastFest, a day filled with educational family fun, and the Georgia-Florida Golf Classic, a friendly tournament that coincides with the Georgia-Florida football weekend.
Whether you're planning a relaxing romantic getaway or are hoping to join the locals at one of our many festivals, you're sure to discover that fall is the new summer in the Golden Isles.