Green Leaf Program
What is the Green Leaf?
The Golden Isles Convention and Visitors Bureau has created the Green Leaf business program to highlight those businesses in the Golden Isles that are taking steps towards more sustainable and greener business practices.  We recognize these businesses on our website by a green leaf icon.  When you see the Green Leaf next to a business or attraction, know that the participating business has made a pledge to becoming more eco-friendly and you will be doing your part by patronizing their business.
Businesses with the Green Leaf Icon recycle the following items:
Tin and aluminum cans, plastic/containers, newspaper, cardboard, packing boxes, junk mail, magazines, office and copy paper.
All glass and polystyrene.
Recycling must also be made available to the public where trash receptacles are present and where appropriate (hotel rooms, common space, outdoor areas, function halls and events, dining areas).
Disposable products must be biodegradable or recycled onsite.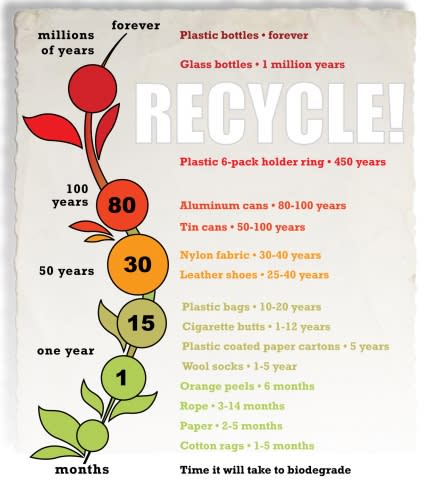 [Recycle poster provided by Jekyll Island Authority]
Below is a list of participating businesses that have pledged to be eco-friendly:
Kids Camps & Programs
Trails
The Coastal Georgia Greenway
Beaches
Gifts & Souvenirs
Hotels & Motels
Parks
Step-On Guides
Bird Ramble Birding & Nature Tours
Camping & RVs
Meeting Venues
Tour Operators
Jekyll Island Fun Tours
Kingfisher Paddleventures
Blue Dolphin Tours
Lady Jane Shrimpin' Excursions
Non-Profit Organizations
Specialty Shops
Clothing & Apparel
Cart Rentals
Bike Rentals
Gear Rentals
Ocean Motion Surf Co. - Pier Village
Vacation Rentals
Oceanfront Cottage 59 on Sea Island
Restaurants